Traditional bottles pump product from the bottom of the bottle but do not allow it to pull the last bit when it gets low. This makes the consumer keep trying to remove the last bit of product from the bottom of the bottle while exposing it to bacteria and oxidizing it, so it may lose its effectiveness. Not to mention very frustrating. This is not the case with airless pump bottles.
Airless technology has become the new future of the cosmetic, beauty, and medical packaging industries. Today, airless pump bottles are becoming the cosmetic packaging solution of choice for manufacturers who want their products to stand out from the competition.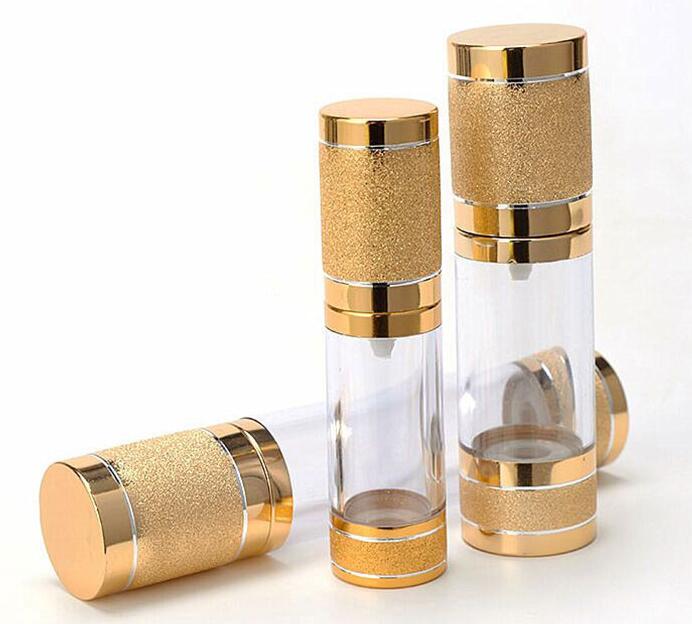 How do airless pump bottles work?
The new innovative airless bottle consists of a bottle container, a plastic piston mechanism inside the bottle's septum, and a pump head at the mouth of the bottle. When the pump is pressed down, the piston moves upwards inside the diaphragm.
The pressure is used to fill the cavity and then evenly distribute the contents. When your customers use small quantities, the precision offered by an airless pump can be very important, especially for handling products that require a higher level of precision.
Advantages of airless pump technology
Airless packaging is suitable for fluids, liquids, creams, gels, and any beauty or health application. These airless bottles are particularly suitable for formulations with high viscosity. There is very little waste because they pump flow-resistant formulations efficiently.
Airless bottles also extend product life because their non-pressurized, airless chambers are ideal for those products that do not contain preservatives, as well as natural and organic products. Airless bottles offer a high-end packaging look and numerous customized options.
Airless bottles offer many benefits, such as
▷Excellent double-wall protection for sensitive formulations
▷Ideal for dispensing flow-resistant, high-viscosity liquids
▷Excellent product evacuation with less waste
▷100% leak-proof
▷Offers a wide range of decorative and customizable options with a sophisticated luxury feel
▷Suitable for more sensitive products such as natural and organic creams, serums, foundations, etc.
▷Insulates the product to inhibit oxidation, spoilage, and bacteria
▷Provides splash-free delivery without dripping and clogging during discharge
▷Weighs less than traditional pump bottles
Consumer Expectations
Today's consumers are more aware of their cosmetics, focusing not only on the ingredients but also on the benefits that certain packaging can provide over others. Those who sell cosmetics can credit this consumer shift and education. Therefore, it is important for cosmetic manufacturers to up their game when it comes to providing their customers with options.
Our Services and Design Options
In our current competitive cosmetics industry, you want to make sure your packaging reflects your brand and builds trust with your customers. We are a packaging provider that not only focuses on your immediate needs but can guide you to technologies that are better suited to your product and brand. Our airless pump bottles are available in a variety of materials and sizes.
Our custom design team will listen carefully to your goals in order to help you, whether you want a bold design or a sleek, classic concept. We will provide cutting-edge solutions, such as our line of airless pump bottles, that can add the spark your product needs to the market. Depending on the airless pump product, we offer many different capacities, materials, lock options, color options, and decoration options.