10ml 30ml 50ml Clear Cylindrical Spray Perfume Bottle
| | | | | | |
| --- | --- | --- | --- | --- | --- |
| Capacity | Specification | Specification with cap | Printing specification | Weight | With cap |
| 10ml | 18x106mm | 18x127mm | 56x78mm | 37G | 42G |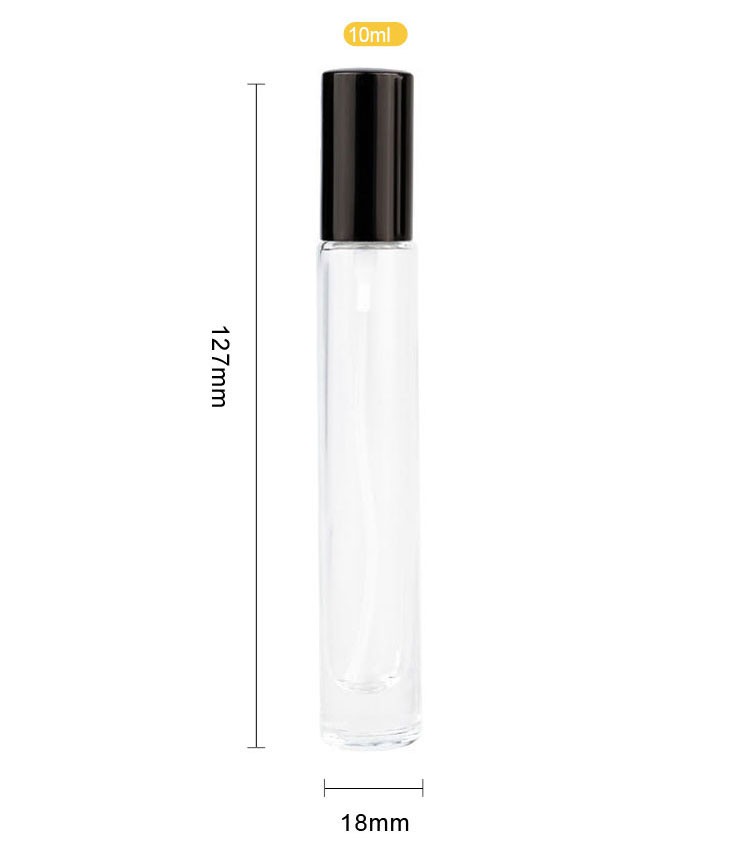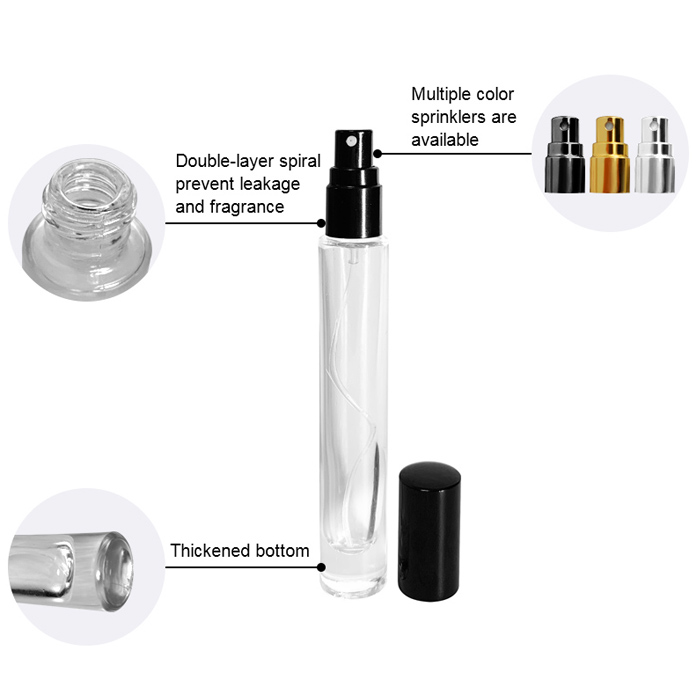 Details of cylindrical spray perfume bottle
Brand Name: A-top-pack
Product name: Cylindrical spray perfume bottle
Size: 10ml cylindrical spray perfume bottle
Base Material: glass
Collar Material: glass
Color:Clear,customized
Cap color:Silver,gold,black
Usage: Deodorant/perfume/toner/cosmetic packaging
Shape: Cylindrical
Packing: Carton+Pallet
Supply Ability:1000000000 Piece/Pieces per Week
Packaging & Delivery
Port: Guangzhou port/Qingdao port/shanghai port/Tianjin port
Packing: Carton+Pallet or customized by the customer

Service
Quality: Guaranteed glass quality with strict inspection
OEM/ODM: We can customize the glass bottle/jar according to your design
Customized logo: Silk screen printing, hot stamping, labeling, frosting, spraying color, Electroplating

As a manufacturer of perfume bottles, we can answer any questions you may have about perfume bottles:.
1. Material of perfume bottles: glass bottles can keep and protect perfume in the best condition when it reaches the consumer. So usually perfume bottles are made of glass, and the manufacture of perfume (and other glass bottles) begins with melting the raw material, then making an ice ball at a very high temperature, and then making the bottle shape. When the glass cools, it will keep the shape of the perfume bottle, ready to be filled and sealed.
2. Perfume bottle size: most people use a 10ml 30ml 50ml perfume bottle
A 10ml perfume bottle contains 10ml of liquid inside, a 30ml perfume bottle contains 30ml of liquid inside, and a 50ml perfume bottle contains 50ml of liquid inside The external size of the bottle depends on the design of the perfume bottle.
3. The role of perfume bottles
The fragrance in a perfume bottle is a liquid. To release the spray, you need to press the top of the spray bottle or the trigger. Pressing the trigger draws the liquid perfume upwards through the tube and then disperses it as a mist through the atomizer of the spray bottle.
4. How to open the perfume bottle
Perfumes in bottles with screw caps can be refilled by opening the cap and putting in more perfume. Perfume bottles with rolled-edge closures may require the use of tools to remove the atomizer spray, but perfume manufacturers making more sustainable products now choose to recycle the glass and unscrewable pump to allow refilling of the bottle.
5. How long perfume bottles can be kept in the bottle
Many perfumes do not have a fixed shelf life and can last from 1-10 years. However, three to five years is usually the average shelf life of a perfume. According to experts, perfumes with heavier base notes will last the longest.