Trigger sprayers
| | | | | |
| --- | --- | --- | --- | --- |
| Neck | Box Dimension | Quantity in one box | Gross Weight | Net Weight |
| 28/400,28/410,28/415 | 570x330x370 | 500 pcs | 10.5KG | 10KG |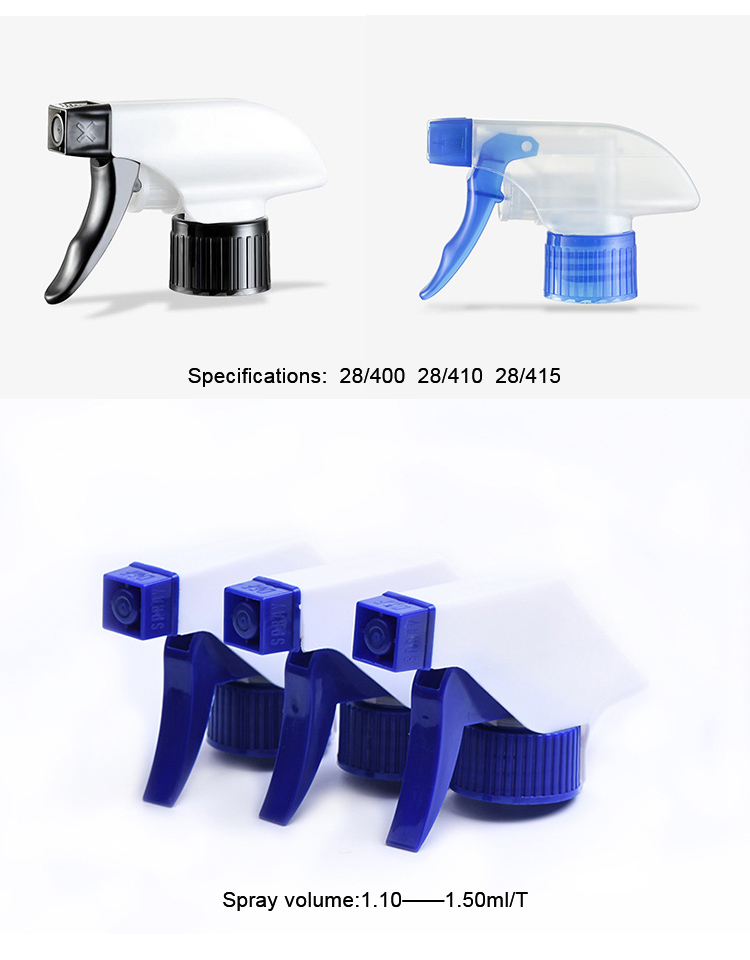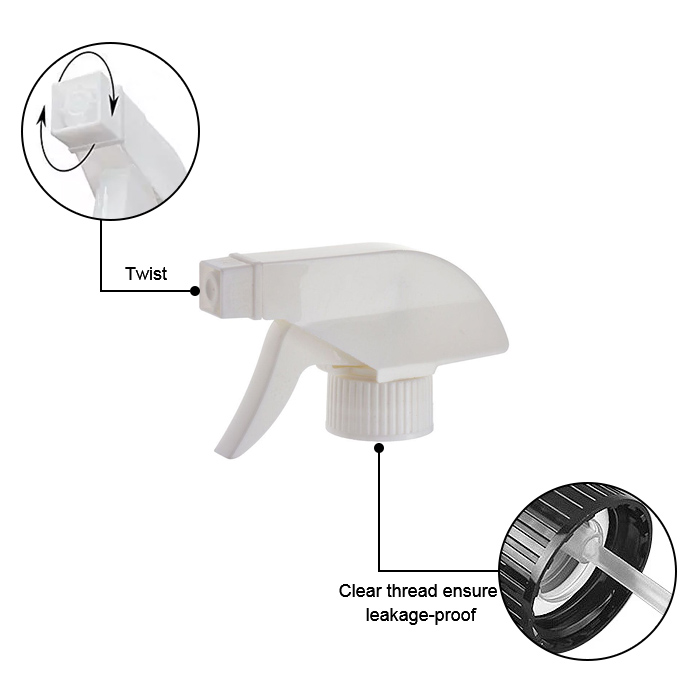 trigger sprayers
Trigger sprayers are usually made of polypropylene (PP) plastic and can be used for general purposes (water, cleaning solutions) or chemicals. Trigger sprayers are available in a variety of colors and can be used to identify different products in the bottle. The nozzle can be adjusted to produce a fine spray or jet for dispensing liquid.
Principle of trigger sprayers
The principle of trigger sprayers is a small engine with a piston in the cylinder, pumping liquid through the dip tube in the cylinder, and using the pressure generated by the squeezing handle to force the liquid through the nozzle base into the nozzle itself. Trigger sprayers can spray fine mist, spray or jet, and through special inserts, it can also spray foam. Trigger sprayers consist of multiple injection molded parts assembled on a special fully automatic assembly machine.
trigger sprayers function
Two functions: direct compression trigger sprayers and pre-compression trigger sprayers.
Direct compression: The liquid flows directly from the dip tube in the cylinder, through the squeeze handle, and through the nozzle base through the nozzle itself. This function is suitable for most simple liquids, such as surface cleaners, deicers, etc.
Pre-compression: The advantage of this function is that it can fully eject the trigger without dropping liquid or forming any large droplets, because a special valve is inserted in the chamber of the trigger.
trigger sprayers application
Plastic trigger sprayers are suitable for cleaning and disinfecting target surface areas or objects. Trigger sprayers are available in a variety of colors for you to color-code the product for easy identification when refilling the bottle with diluted solution and storing. Trigger sprayers provide spray, flow and mist options. The most common use of trigger sprayers is to package household cleaning products. The trigger cover also provides an on/off closure device to help reduce spills and leaks. Although trigger sprayers are suitable for specific health and beauty liquids, manufacturers of beauty products generally prefer sprayers for items such as sprayers and perfumes.
trigger sprayers use
Using spray bottles with comfortable trigger sprayers can help reduce hand fatigue caused by manual pumping. PP foam trigger sprayers with comfortable handles are suitable for various disinfectants, foam cleaners and disinfectants. High-output trigger sprayers are equipped with easy-to-squeeze triggers, and some allow upside-down use for 360-degree spraying. Being able to manipulate the bottle 360 degrees reduces the rigidity of keeping the bottle in one position or awkward position for a long time. In addition, pairing the lightweight trigger caps of trigger sprayers with plastic bottles can make the product easier for consumers to carry.
trigger sprayers Details
Brand Name: A-top-pack

Product name: Trigger spray cap

Size: 28/400,28/410,28/415 trigger spray cap


Base Material: PET PP

Usage: Pharmaceutical/Spraying disinfection/Kitchen cleaning/Garden watering packaging bottle

Packing: Carton+Pallet

Color: Black, white, clear


Sprayer color: Black, red, orange, blue, etc

Supply Ability:1000000000 Piece/Pieces per Week



Packaging & Delivery
Port: Guangzhou port/Qingdao port/shanghai port/Tianjin port

Packing: Carton+Pallet or customized by the customer
Service
Quality: Guaranteed glass quality with strict inspection

OEM/ODM: We can customize the glass bottle/jar according to your design

Customized logo: Silk screen printing, hot stamping, labeling, frosting, spraying color, Electroplating